UCSF's Chicanx Latinx Campus Association Wins National Higher Education Award
Photo above: CLCA members convened in a half-day retreat to strategize on upcoming initiatives at the Faculty Alumni House in August 2019.
---
UC San Francisco's Chicanx Latinx Campus Association (CLCA) has been named a recipient of the 2020 Inspiring Affinity Group Award by INSIGHT Into Diversity magazine, the oldest and largest diversity and inclusion publication in higher education today.
This award recognizes CLCA and 37 other groups for inspiring and encouraging higher education professionals in their community by organizing opportunities for mentoring, collaborating, professional development and social networking.
One of 38 groups in the U.S. to be recognized for making a difference in the lives of individuals from all underrepresented groups, CLCA will be featured in an upcoming issue of the magazine, the only remaining print periodical today focused exclusively on diversity.
---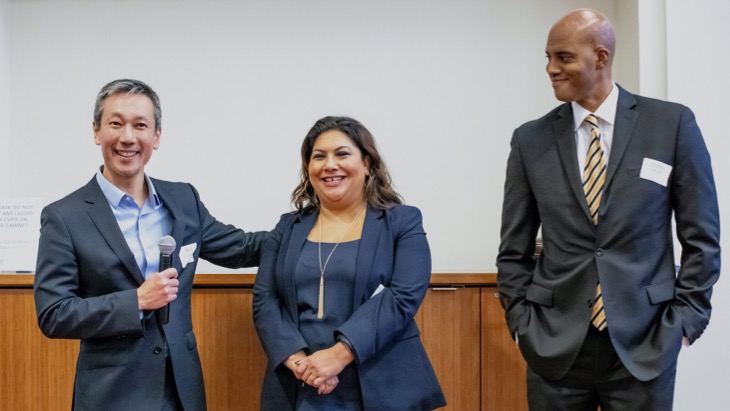 CLCA partnered with the Office of Diversity & Outreach and other UCSF affinity groups to host a welcome reception for UCSF's new leaders in December 2019. L to R: Won Ha, Vice Chancellor of Communications, Francesca Vega, UCSF's first Latina Vice Chancellor of Community and Government Relations, and Corey Jackson, UCSF Chief Human Resources Officer.
---
CLCA was co-founded in 2015 by Alejandra Rincon, assistant vice chancellor and chief of staff in the Office of Diversity and Outreach and Sergio Saenz, director of Outreach and Recruitment in the School of Nursing. Today, CLCA comprises about 275 members representing mostly staff and a few faculty members who are working to advance UCSF's PRIDE Values and its goals to advance equity and inclusion.
Co-chaired by Mario Peraza, executive director of Alumni Relations, and Lisa Cisneros, senior director in the Office of Communications, CLCA has worked to rally and raise the visibility of the Chicanx/Latinx community at UCSF. In recent months, CLCA has focused its efforts on:
Increasing the representation of Chicanx/Latinx faculty and staff in leadership positions at UCSF;
Providing professional development opportunities for staff to help them learn new skills to enable their advancement; and
Addressing issues affecting the climate, health and livelihood of the Chicanx/Latinx community at UCSF.
In the midst of an unprecedented period of uncertainty, programs that support underrepresented groups are more important than ever, said Lenore Pearlstein, publisher of the magazine and president of Potomac Publishing Inc. in her award notification to CLCA.
"Through our years of experience in this field, we know that underrepresented faculty will play an even bigger role in making your institution the go-to campus where others know they can feel respected and welcome and their careers can flourish," she said in her letter. "Being the only recognition of its kind for institutions of higher education, this award will definitely help make your institution stand out above others. Diversity matters in times like these!"
-->